a brief meditation on connecting to the main
Your oft-quoted lines suggest that "No man is an island entire of itself; every man is a piece of the continent, a part of the main" [John Donne, Meditation 17]. You were talking of the ultimate separation that our mortality entails.
In a time when we are trying to operate a community that is both together but distanced, your words take on new meaning.
The sense of isolation that characterised many young people's experience of lockdown has, with the re-opening of schools in September, been replaced by a renewed sense of community. We learn each day not just how important community is; but also how challenging the time in lockdown was for so many. Concerns over how much learning was actually achieved across the UK's schools during the remote period are matched by a watchfulness over the mental health impacts of the past six months on the nation's children.
Shrewsbury has found a way to thrive under the necessary limitations of the day. These first five weeks of term, we have all been on campus pretty much non-stop seven days a week. This has generated a strong sense of togetherness and community. Equally, we remain alert to the world beyond and our part in it. Our school is strongly embedded in its local community and we strive to play a positive role in society.
We were quietly proud to share the news that we have been listed as finalists in the national Independent Schools of the Year Award 2020 for community outreach (winners to be announced 8 October 2020). [Update: we won two awards!] During lockdown, our community engagement work continued, with the Design and Technology Faculty making hundreds of protective visors; the school donated PPE and webcams to local hospitals and surgeries. Difficult times call for sharing, rather than looking after our own interests: sharing, not hoarding.
Shrewsbury the town is, of course, a nearly-island. Nestled in a graceful loop of the River Severn.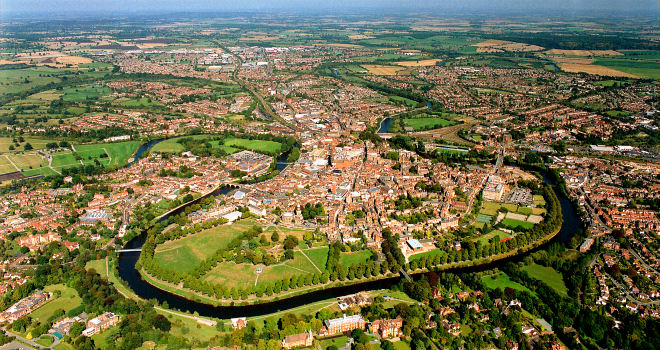 Yet, we are connected to the mainland. Alongside an historic association with the Shewsy, our youth club in Everton, and numerous volunteering programmes and educational partnerships with over 30 state schools, this community activity is part of our essence. And it is essential that our pupils foster and develop a keen sense of social responsibility during their time at the school.
We will continue to work hard to give the pupils the best experience that they can have. And to extend opportunities in collaboration with partner schools in the state sector. We are proud to be a distinctive community – a Salopian nearly-island – but we are also dedicated to being a constructive "part of the main".